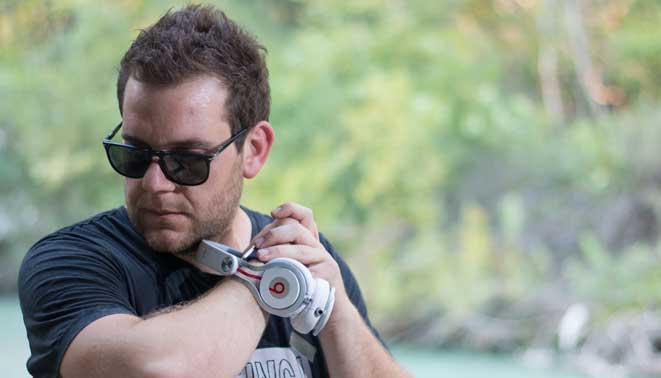 BIOGRAPHY
Some things in life are meant to be , as a result ,his great love and interest for music was manifested at a
very young age ,winning 2 song competitions.
Dj George Tsokas , hailing from Igoumenitsa Greece, is a professional and accomplished DJ and producer who specializes in spinning many genres of music. .
''Music has always been my passion'' George says.
His devotion to technology and computers helped him in music editing which was
even more increased by the fact that he has also studied ''Information Technology''. His debut was in 2007 when he started playing music at clubs in his town.
He quickly progressed on big club residences and various guest appearances.
His special ability to please the crowd made him famous and desired rather soon!''Crowd's satisfaction gives me the power and inspiration to move on and improve'', he says.

A full and established career has followed with multiple appearances in Athens [ Big Apple(Kolonaki)-Matchbox(Gazi) -Frontistirio Club-(Dafni)etc.] ,Thessaloniki [Bitter Lemon-Charlie Club-Modus Bar etc.], as well as in other big Greek cities like Ioannina ,Kozani ,Chalkidiki, Preveza and islands such as Crete, Kefalonia , Corfu etc. Moreover, his reputation was quite quickly spread abroad , declaring his presence by playing in famous clubs in Germany, Switzerland, Bulgaria ,Albania and Cyprus .

Apart from the above, DJ George Tsokas , has successfully produced Remixes for well–known Greek artists like ''MELISSES - Μισή Καρδιά (George Tsokas)'', ''Γιώργος Παπαδόπουλος - Αγάπη Μου (George Tsokas remix) - Official Audio Release'', ''Dim Rhode Ft Dimitris Giotis - To Magazi [George Tsokas Remix]'', '' Άγγελος Ανδρεάτος - Θα Eίμαι Δίπλα Σου | Remix by George Tsokas (Official Audio Video HQ)'', ''George Tsokas feat. Giannis Mpekas - Όταν θα σκέφτεσαι εμένα 2017 Remake'', ''George Tsokas feat. Ιορδάνης Αγαπητός - Το θέμα είναι ψυχολογικό Remix - Official Video Release''.
He has received support and admiration from quite a lot of prominent
Greek DJs and producers having worked with many of them .Furthermore he has collaborated with famous Greek music companies such as ''Heaven Music'' and ''Panik Records''.

Except for being a successful DJ and producer, George Tsokas even hosted a weekly radio show on 4u radio some years ago, receiving great comments and getting estimable approval from its listeners.

Whatever someone's flavor is , DJ George Tsokas will keep him dancing the night away making him a DJ and producer to look out for. His dedication, professionalism and talent are definitely exceptional .

SOCIAL MEDIA INFOS