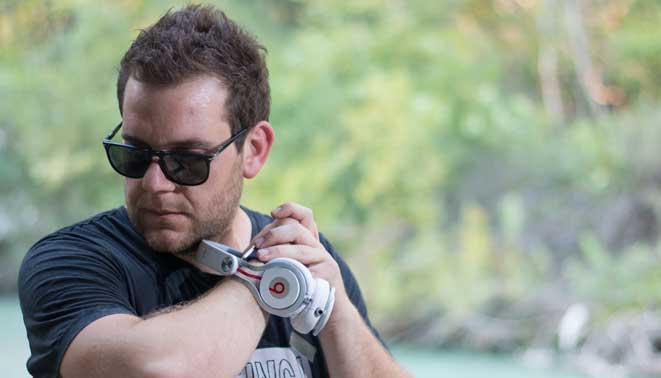 My great love for music goes way back to the time I was a child. At an early age I had distinctions in two song competitions in the area of Epirus.
Since then I am kind of connected to music emotionally. At the same time, my commitment to technology and computers helped me start editing music, which becomes more specialized when I began my studies in Information Technology Department of TEI of Epirus in Arta.
I started my career as amateur dj in 2007. Professionally I began appearing from 2010 and since then i work full-time.
SWITZERLAND Guests (Trischli Club , St. Gallen)
GERMANY Guests (Rex Club Dusseldorf - 300Club Dusseldorf - GreekSensaton Insomnia Club Frankfurt - Hannover Face Club - Koln Ixor Night Club - Muzik Zentrum Hannover - Wedding Nights Summer 2015 - VIP Events Summer 2016)
CYPRUS Guests (Delirium Club Αγία Νάπα - Makronissos Kandi Beach - Noceur(Nicossia) Preserve Larnaca - Symbols Nicosia - Allure Club Limassol )
ATHENS Guests (BigApple [Kolonaki] - Matchbox[Gkazi] - Frontistirio Club[Dafni])
THESALLONIKI Guests (Bitter Leamon - Charlie Club, Mojo CafeCoctailBar, Paradise Lost , Fidelio, Modus Bar)
BULGARIA (Sofia) - Imperia Club - Eclipse Club - Fabrica 126
LEFKADA Guests (The Karma)
KEFALONIA Guests (Bass Club)
KRITI Guests (Monastiri Club)
CHALKIDIKI Guests (Stoa Club)
IOANNINA Guests (Rasim - Gazon - Garisson)
KILKIS Guests (MY5621 - Epestrefe)
KOZANI Guests (Apokalipsi Club)
GREVENA Guests (Seasons , Gallery Cafe Bar , Venti Wine Bar)
METSOVO Guests (Focoso Club)
PARGA Guests (Mistral Club Nautic - Tango)
CORFU Guests (VIPEllinadiko)
PREVEZA Guests (Mango Beach Bar - Prevere - La Piscine Beach Bar - B52)
VONITSA Guests (En Plw )
ARTA Resident & Guests (AllureCafe - Duomo CafeBar - Prestige Club - CharlieBar - River Marine - Yap Yum Summer Club - Los Demas - Doors Bbc - The Old Street BARBER'S - Capital)
IGOUMENITSA Resident & Guests (Sahra Cafe - Social Cafe - Ostria Summer Club - KLIK Bar - Mylos Bar - Dali Cafe Bar - Soho Summer Club - 360Cafe Bar|Ex Apolis - VIP Envy - Hypster - Shisha Club)
Albania (Ag Saranta - Shisha Club , Block) (Argirokastro)
SOCIAL MEDIA INFOS